What We Do
Connection between District of Columbia Residents and the Executive office of the Mayor.
Establishes partnerships with communities, conducts and coordinates events, town halls, forums, and projects in support of carrying forward mayoral initiatives at the community level.
Serving as a liaison between the Mayor and community organizations, civic groups, and Advisory Neighborhood Commissions (ANCs)
Manage and advise on the intersectional needs of community needs through the oversight of 13 community affairs offices.
Meet the Director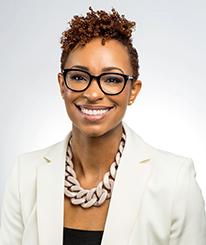 Faith Gibson Hubbard
Director
Mayor's Office of Community Affairs
In February 2021, Mayor Muriel Bowser appointed Dr. Faith Gibson Hubbard as the Director of the Mayor's Office of Community Affairs (MOCA). Prior to serving as the Director of MOCA, Dr. Gibson Hubbard served as the first Executive Director of Thrive by Five DC. In this capacity, she led efforts to ensure every family in the District is knowledgeable of and connected to programs and resources, ranging from maternal health to early childhood supports, needed not only to survive but to thrive. During her tenure, Dr. Gibson Hubbard led and executed Mayor Bowser's National Maternal & Infant Health Summit and established the Mayor's Thrive by Five Coordinating Council.
Dr. Gibson Hubbard has also served as the first Chief Student Advocate for the District of Columbia and as the Interim Ombudsman for Public Education.
Dr. Gibson Hubbard is a passionate and committed public servant who has served in several professional and volunteer roles focused on community engagement including as President of the Ward Five Council on Education, as a member of the Advisory committee for the Student Assignment and School Boundaries Review process for the District of Columbia Public School, as member of the DC Public Library Board of Library Board of Trustees, and as a board member on the Regional Board of Directors for Reading Partners DC.
Faith holds a Doctor of Philosophy (Ph.D.) in Public Administration & Public Affairs (Virginia Tech), Master of Public Administration (Old Dominion University), and a Bachelor of Arts in Journalism/Public Relations (Georgia State University). Faith is a proud DC resident who lives in Ward 5 with her husband and two children.

View the Mayor's Office of Community Affairs' organizational chart.
Annual Reports
Explore annual reports to find out more about agencies' strategies, highlights of the year and key figures. 
FY2020
FY2019
Click to view the annual reports for the following agencies:
FY2018
FY2017
FY2016
Click to view the annual reports for the following agencies:
Mayor's Office on Asian and Pacific Islander Affairs
Mayor's Office on Returning Citizens Affairs
Mayor's Office of Volunteerism and Partnerships
FY2015
History
The Mayor's Office of Community Affairs was established through the Mayor's Order 2008-46. MOCA is responsible for ensuring that the needs of the residents of the District of Columbia are met and that residents' engagement and interests in the community are heightened.
FOIA
FOIA Information
If you cannot find the information you are looking for here or elsewhere on DC.gov you can submit a FOIA request online via the DC government Public FOIA Portal. Requests may also be submitted by mail, fax, or email. However, please note that FOIA requests submitted online will be easier to track and process.
To understand the process before making a request, please see foia.dc.gov.
Administrative Appeals
An administrative appeal is submitted to the Mayor. An administrative appeal may be submitted online via the DC government Public FOIA Portal. An appeal may also be submitted by mail or email. The appeal must include a copy of the original request as well as a copy of the public body's written denial letter issued to you, if any. In addition, the appeal must include a written statement of the arguments, circumstances, or reasons in support of the information sought by your request. The appeal letter must include "Freedom of Information Act Appeal" or "FOIA Appeal" in the subject line of the letter as well as marked on the outside of the envelope. You may direct a written appeal to:[email protected]
Or
Mayor's Office of Legal Counsel
FOIA Appeal
1350 Pennsylvania Avenue, NW
Suite 407
Washington, DC 20004
A copy of the appeal must be provided to the public body whose denial you are appealing. The appeal must be addressed to the public body's FOIA Officer.
FOIA Officer
The FOIA Officer is the principal contact point within MOCA for advice and policy guidance on matters pertaining to the administration of the FOIA. All requests are handled professionally and expeditiously. MOCA's FOIA Officer's information is listed below.

Alana Burnett
Executive Office of the Mayor
1350 Pennsylvania Avenue NW, Suite 300
Washington, DC 20004
[email protected]
Phone: (202) 724-7681
Contact Us
The Mayor's Office of Community Affairs
John A. Wilson Building
1350 Pennsylvania Avenue, NW, Suite 332
Phone: (202) 442-8150
Email: [email protected]
Mayor's Office of Community Affairs