What We Do
Outreach: MOLA focuses on establishing partnerships, engaging residents in all eight wards, and disseminating information to the District's Latino residents to increase their knowledge of and access to vital programs and services available to them.
Language Access Support: MOLA provides technical support to DC Government Agencies covered by the Language Access Act to ensure that culturally and linguistically competent city services are delivered to the Spanish-speaking residents of the District.
Technical Support: MOLA provides development, training, and support for community service agencies to help improve business processes and make it easier for these agencies to serve the Latino population of the District of Columbia.
Meet the Director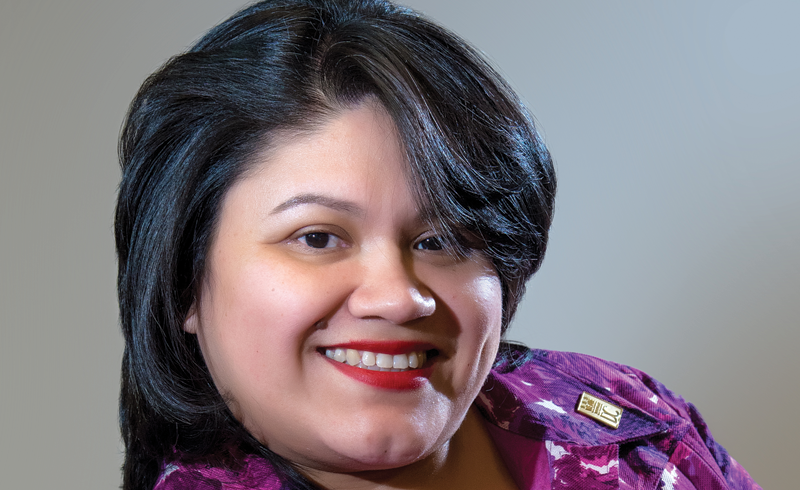 Jackie Reyes-Yanes
Executive Director
Mayor's Office on Latino Affairs
Director Jackie Reyes-Yanes was appointed by Mayor Muriel Bowser to serve as Director of the Mayor's Office on Latino Affairs (MOLA) in January 2015 and reappointed in 2019. Director Reyes-Yanes is responsible for advocating and making the Latino community an integral part of the District of Columbia policy's design and budget allocation. The mandate of the agency, which is part of the Executive Office of the Mayor, is to ensure that full range of health, education, employment, and social services are made available to Latino residents of the District of Columbia.
Today, Director Reyes-Yanes is an important part of Mayor Muriel Bowser's administration's efforts on creating pathways to the middle class, and Fairs hot for all 8 wards in DC. Under Director Reyes-Yanes's leadership at MOLA the agency's budget has increased by 47%. In addition, through Mrs. Reyes-Yanes Agency Mayor Muriel Bowser created "the Immigrant Justice Legal Services Grant, which provides legal assistance to the DC's immigrant community. The program has been recognized national model. Director Reyes-Yanes restated the MOLA-DOES's Summer Youth Program hosting 200 youth. Mrs. Reyes-Yanes was vital in Mayor Muriel Bowser historic Washington DC- San Salvador Sister City Agreement in August 2018.
Director Reyes-Yanes' experience spans more than twenty years of commitment to the diverse growing Latino community in DC. She has acted as the Latino Affairs and Community Outreach Director for late DC councilmember Jim Graham (D – Ward 1). While serving with Graham, Reyes spearheaded initiatives to address the needs of Latino residents in the District. Several of her accomplishments include: organizing gang prevention events that successfully reduced street violence and crime and helping secure financing to rebuild the Monseñor Romero Apartments in Mount Pleasant which were destroyed by a fire in 2008. Additionally, Director Reyes-Yanes served the District's Latino youth as a case manager at the Latin American Youth Center (LAYC) and in the Mayor's Office of Community Relations and Services (MOCRS) under former Mayor Adrian Fenty.
Director Reyes-Yanes is recognized throughout the District, National and International for her efforts creating safe spaces for the immigrant community through cultivating strategic partnerships with different stakeholders. Mrs. Reyes-Yanes has been featured in the "Si se Puede" Book 25 Successful Salvadoreans in Diaspora. Author Ana Margarita Chavez Escobar. Also name En el Tiempo Latino Newspaper 100 Powermeter
Director Reyes-Yanes has deep roots in the community and a track record of success working in support of causes that help the Latino community. She is a Ward 7 resident and Salvadorian activist. She made DC her home in 1990.
View the Mayors Office on Latino Affairs' organizational chart.
History
Since 1976 the Mayor's Office on Latino Affairs (MOLA) has served the Latino community of the District of Columbia. The mission of the Mayor's Office on Latino Affairs (MOLA) is to improve the quality of life of the District's Latino residents by addressing a broad range of social and economic needs through strategic management of public and private partnerships, expertise on policy, community relations, civic engagement, and community-based grants.
Contact Us
The Mayor's Office on Latino Affairs
Frank D. Reeves Center of Municipal Affairs
2000 14th St NW, Suite 206
Washington DC 20009, 
Phone: (202) 671-2825
Email: [email protected]
Mayor's Office on Latino Affairs