What We Do
MOAPIA advises the Mayor, the Council, and District agencies on the views, needs, and concerns of the AAPI community.
Award funding to Asian and Pacific Islander community-based organizations whose programs provide culturally and/or linguistically targeted services and resources to the District's AAPI residents and businesses. 
MOAPIA provides recommendations on District programs and initiatives affecting the AAPI community and helps coordinate programs and initiatives within the government that promote the overall welfare of the AAPI community.
MOAPIA organizes and facilitates public and private programs on public safety, human rights, economic development, housing, employment, social services, public health, transportation, education, and multicultural development to ensure accessibility for the District's AAPI community.
Meet the Director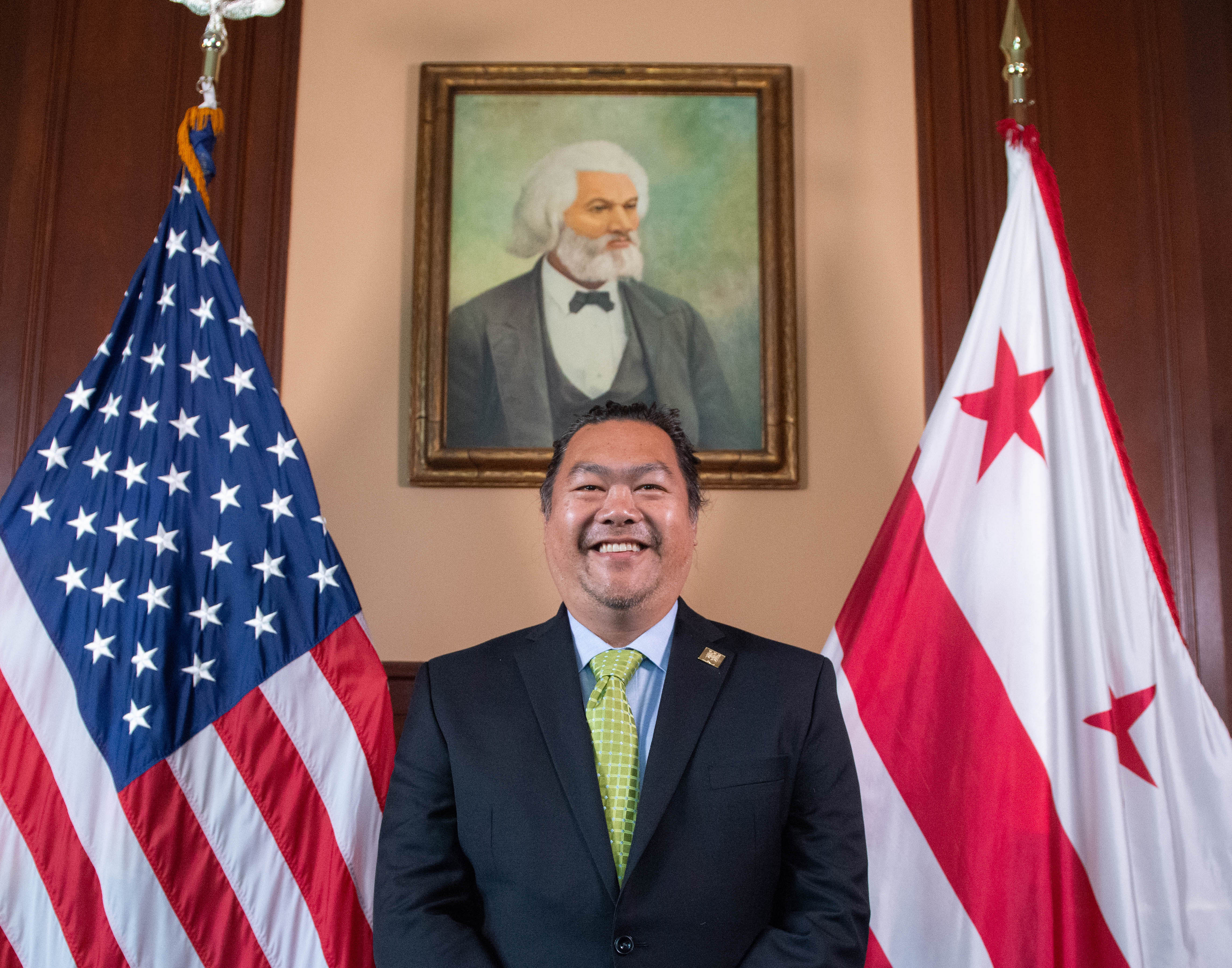 Ben de Guzman
Director
Office on Asian and Pacific Islander Affairs
Ben de Guzman is the Director of the Mayor's Office on Asian and Pacific Islander Affairs (MOAPIA). He has been a leading voice at the local and national level on issues of racial equity, immigrants' rights, veterans affairs, and LGBT justice for more than two decades. He comes to MOAPIA from the Mayor's Office of LGBTQ Affairs, where he served as the Community Outreach Specialist. During his tenure there, he helped execute two major first time events for the Office- the "District of Pride" LGBTQ cultural performance event and the 32nd Annual 17th Street High Heel Race, presented by the Mayor's Office as lead organizer.
He has authored articles and op-eds that have appeared in mainstream and special interest media, anthologies, and academic publications, including the Encyclopedia of Asian American Issues Today. In 2015, he received a Community Service Award from Washington DC Mayor Muriel Bowser, and is pleased to come to MOAPIA and help recognize exciting new leaders moving forward. In June 2019, he was recognized by the Capital Pride Alliance in Washington, DC as a Capital Pride Hero. In October 2019, he received one of the Twenty Outstanding Filipino Americans Award for LGBT Advocacy.
As an advocate for equity and recognition for Filipino veterans of World War II, he played a key role in two of the most significant legislative victories on behalf of these soldiers. He led communications, outreach, and political strategies for the Filipino Veterans Recognition and Education Project that led to the passage of the Filipino Veterans of WWII Congressional Gold Medal Act in 2016. He also served as the National Coordinator for the National Alliance for Filipino Veterans Equity, where he organized a national legislative campaign that created the Filipino Veterans Equity Compensation Fund in 2009.
For almost ten years, he was principal staff at the National Queer Asian Pacific Islander Alliance (NQAPIA), where he managed the policy and programmatic work for NQAPIA and its federation of 40 Asian American, South Asian, Southeast Asian, and Pacific Islander LGBT groups around the country. He spearheaded efforts to promote national LGBT campaigns around comprehensive immigration reform and a national LGBT Pride Month campaign from Asian American/ Pacific Islander advocacy organizations.
Ben is the son of Filipino immigrants and was born and raised in New Jersey. He first moved to the District in 1997 and is a proud resident of Ward 1.

View the Mayor's Office of Asian and Pacific Islander Affairs' organizational chart.
History
Created in 1987, MOAPIA has been committed to promoting and engaging the District's Asian American and Pacific Islander (AAPI) residents and business owners so they may successfully integrate into the civic, economic, and cultural life of the District. As the Mayor's liaison to the AAPI community, we connect AAPI residents and businesses with District agencies to foster efficient and effective partnerships, improve access to services, and help break down language and cultural barriers.
Contact Us
Mayor's Office on Asian and Pacific Islander Affairs
One Judiciary Square
441 4th Street, NW, Suite 721 North
Washington, DC 20001
Phone: (202) 727-3120
Fax: (202) 727-9655
TTY: 711
Email: [email protected]
Mayor's Office on Asian and Pacific Islander Affairs