What We Do
MOCCA seeks to engage the extraordinarily diverse culture of the Caribbean Diaspora in the District of Columbia. MOCCA works to empower residents through equipping them with the government resources and services that they need while also providing programmatic support to each facet of the community.
MOCCA advises the Mayor, the Council, Advisory Neighborhood Commissions, and other District agencies on the views, needs, and concerns of the Caribbean Diaspora.
MOCCA provides recommendations on District programs and initiatives affecting the Caribbean Diaspora and helps coordinate programs and initiatives within the government that promote the overall welfare of the Caribbean Diaspora.
MOCCA serves as an advocate for the needs of the District Caribbean Diaspora as those needs relate to housing, health, education, employment, social services, public safety, and expanding business opportunities.
Meet the Director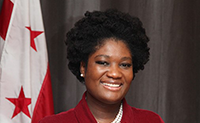 Natalee S. Snider
Director
Mayor's Office on Caribbean Community Affairs
Natalee S. Snider, a veteran of the United States Air Force, spent most of her career advocating for her community with a passion for helping constituents navigate local government and private business – especially fellow Caribbean Americans across the District of Columbia. Director Snider was President of the Caribbean Students Association at Embry-Riddle Aeronautical University and twice elected and served as member and Vice-Chair of Advisory Neighborhood Commission 4B from 2017 to 2019. She has also contributed several thousand volunteer hours to public policy, community organizing, and constituent engagement across the District.
Director Snider, born in Kingston, Jamaica, migrated to Washington, DC where she learned the value of the resources available for District residents. Director Snider began her career at an accounting firm in Southeast DC with the Summer Youth Employment Program. She was Incident Commander of the DC Department of Health Judiciary Square Testing site and has also served as a COVID-19 Contact Trace Force Investigator with the DC Department of Health.
History
Effective May 6, 2020, the Council of the District of Columbia enacted D.C. Law 23-87, mandating the establishment of an Office on Caribbean Affairs within the DC government. Director Natalee S. Snider was appointed by Mayor Muriel Bowser on July 6, 2022 as the first Director of the Mayor's Office on Caribbean Community Affairs. MOCCA is committed to promoting and engaging the District's Caribbean Community residents, faith leaders, and business owners so they may successfully integrate into civic, economic, and cultural life in the District. As the Mayor's liaison to the Caribbean Diaspora in Washington, DC, we connect Caribbean residents and businesses with District agencies to foster efficient and effective partnerships, improve access to services, and help break down language and cultural barriers.
Contact Us
Frank D. Reeves Center of Municipal Affairs
2000 14th Street NW, Suite 101
Washington, DC 20009
Email: [email protected]
Phone: (202) 715-3770
Mayor's Office on Caribbean Community Affairs