What We Do
Connect LGBTQ+ residents with the city services they may need. Intake Form
Advocate on behalf of programs and policies that benefit the lives of LGBTQ+ residents.
Provide grants to community based organizations who serve the LGBTQ+ community and LGBTQ+ youth experiencing homelessness.
Host events that enrich, promote, and bring together the LGBTQ+ community of the District.
Sign up here to receive our Newsletter.
Meet the Director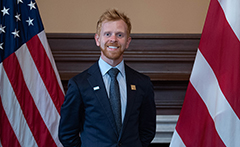 Japer Bowles
Director
Mayor's Office of Lesbian, Gay, Bisexual, Transgender and Questioning Affairs
Japer Bowles, a local queer advocate and public affairs professional, has experience in constituent services and expertise in local and state legislative processes. He recently led a coalition of more than thirty local LGBTQ+ businesses and nonprofit organizations and over 60 elected officials to develop priorities and strategize investments and programs supportive to the LGBTQ+ community, including housing, workforce development, and a resource community center.
Director Bowles previously served as a legislative manager at Stateside, where he led a team that analyzed, monitored, and reported the political actions of state legislatures and executive leaders and reported on over 15,000 legislative and regulatory matters for corporations, trade associations, and the military. Director Bowles also previously served two terms as an ANC commissioner in service of residents in Adams Morgan.

View the Mayor's Office of Lesbian, Gay, Bisexual, Transgender and Questioning Affairs' organizational chart.
History
The Mayor's Office of Lesbian, Gay, Bisexual, Transgender, and Questioning Affairs (MOLGBTQ) was created through the Office of Gay, Lesbian, Bisexual and Transgender Affairs Act of 2005. The District of Columbia is and has been a leader in LGBTQ+ rights in the nation.
The mission of the MOLGBTQA is to address the important concerns of the District's lesbian, gay, bisexual, transgender, and questioning residents through empowering young LGBTQ+ community leaders, removing barriers for LGBTQ+ business owners, building a cohesive LGBTQ+ community across all eight wards, and providing resources for at-risk LGBTQ+ populations.
Contact Us
The Mayor's Office on Lesbian, Gay, Bisexual, Transgender, and Questioning Affairs
Frank D. Reeves Municipal Center
2000 14th St. NW, Suite 101
Washington, DC 20009
Phone: (202) 727-9493
Email: [email protected]
Mayor's Office of LGBTQ Affairs