What We Do
Support and advocate for women's issues through research and community involvement;
Establish public and private partnerships to address women's issues in Washington, DC;
Provide programs  and workshops for women in the District to advance their health and economic status. 
Meet the Director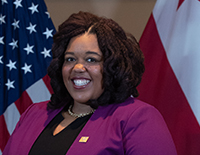 Natasha Dupee
Director
Mayor's Office on Women's Policy and Initiatives
Natasha Dupee was appointed Executive Director of the Mayor's Office on Women's Policy and Initiatives in April 2023. A fifth-generation native Washingtonian, she is committed to creating and defending policies that increase access to a quality life. In 2022, Director Dupee joined MOWPI as Associate Director, overseeing the office's policy, economic empowerment, and stakeholder engagement portfolio. She led with the 5th annual National Maternal and Infant Health Summit curating 46 speakers, 24 exhibitors, and over 1,500 attendees as well as the #BeTheMovement Women's Policy Bootcamp in partnership with 14 presenting organizations on the topics of leadership, advocacy, and civic engagement. Director Dupee's focus on shifting economic power manifested in hosting the first #ObviouslyDC Ladies Night and InnovateHERs convening to increase women entrepreneurs' access to capital. Additional signature programming includes the Washington Women of Excellence Awards, Women's Equality Day, WorkSmart Wage Negotiation Workshops and Financially Fit DC Women. She also serves as Advisory Neighborhood Commissioner for single-member district 7E04. A Stephen Joel Trachtenberg Scholar, Director Dupee is a double alumna of the George Washington University with a bachelor's in women's studies and a master's in public health policy. She additionally holds a master's in secondary education from the University of Missouri-St Louis.
History
In 1967, an Executive Order created the office on a temporary basis, but DC Law 2-109 authorized the Mayor's Office of Women's Policy Initiatives (MOWPI) as a permanent office of within the Executive Office of the Mayor on September 22,1978. MOWPI is committed to enhancing the quality of life for all women and their families within the District of Columbia. MOWPI, working in conjunction with the DC Commission for Women, is in a unique position to serve as a liaison between the public and private sectors and the Executive Office of the Mayor. The office tracks local women's issues, concerns and proposals and presents these ideas to the Mayor and officials in the Bowser Administration.
Contact Us
John A. Wilson Building
1350 Pennsylvania Avenue, NW, Suite 332, Washington, DC 20004
Phone: (202) 442-8150
Fax: (202) 727-2357
TTY: 711
Email: [email protected]
Mayor's Office on Women's Policy and Initiatives