What We Do
Serve as an intermediary between nightlife establishments, residents, and the District government.
Promote a safe, economically and culturally vibrant night time economy.
Engage nightlife stakeholders by conducting outreach and providing assistance.
Solve nighttime issues by collaborating with District government agencies.
Educate nightlife establishments on existing district policies and regulations through quarterly trainings.
Meet the Director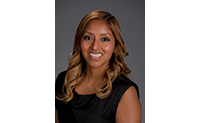 Solana M. Vander Nat
Director
Mayor's Office of Nightlife and Culture
Solana M. Vander Nat was appointed by Mayor Muriel Bowser as the Director of the Mayor's Office of Nightlife and Culture (MONC) in October 2021. In this role, she advises the Administration and the DC Council on the nighttime economy and is the chief advocate and liaison to nightlife establishments, government agencies, and neighboring residents. Director Vander Nat and her team serve as the central point of contact to provide proactive support and guidance on city processes and policies. She advances the Bowser Administration's forward-thinking efforts to increase the confidence, morale, and financial stability of DC's nighttime economy and community. She is passionate about mentoring, inspiring, and empowering underrepresented entrepreneurs and regularly volunteers with organizations that support marginalized groups. Director Vander Nat is a proud DC resident, as well as a woman entrepreneur with more than 11 years of experience in DC's nightlife industry.

View the Mayor's Office of Nightlife and Culture's organizational chart.
History
On October 18, 2018 Mayor Bowser signed the "Office and Commission of Nightlife Establishment Act of 2017," establishing the District's first Office of Nightlife and Culture. The Mayor signed the legislation at The Park at 14th, a nightlife establishment in Ward 2, and was joined by the bill's sponsor, Ward 4 Councilmember Brandon Todd
Contact Us
John A. Wilson Building
1350 Pennsylvania Avenue N.W (Suite 316)
Washington, DC. 20004
Phone: (202) 442-8150
Email: [email protected]
Mayor's Office of Nightlife and Culture