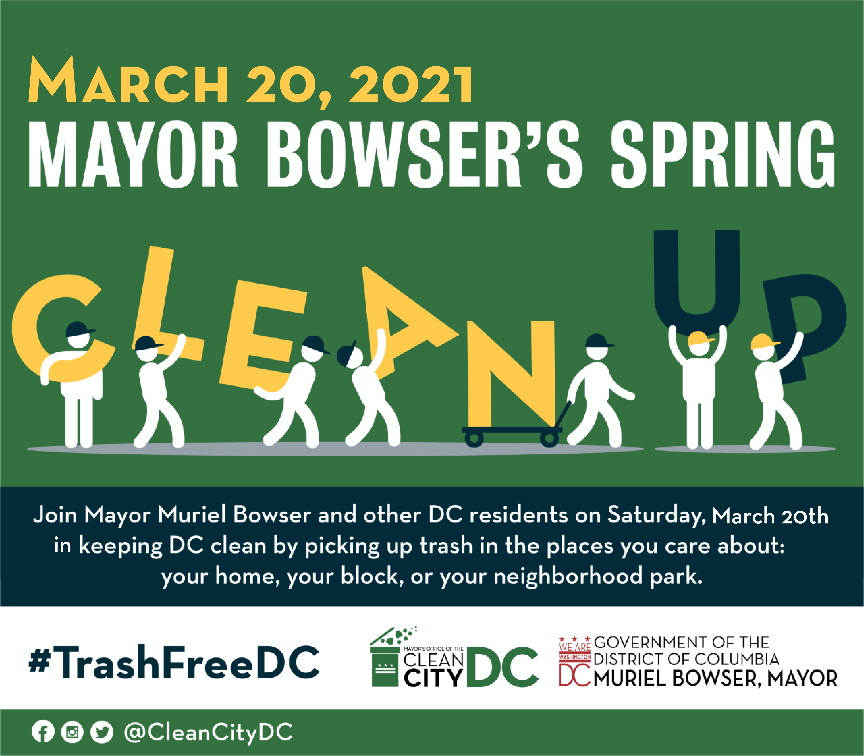 Get outside, meet your neighbors, and show your DC love!
This March, Mayor Muriel Bowser calls on all DC residents to get out and help keep DC clean by picking up trash in the places you care about: your home, your block, your park, your river.

Take 5 minutes to clean up outside your home, 30 minutes along your block, or team up with others for a full-neighborhood scrub! You can participate individually, with your family, or host a small group with your friends and neighbors! Email us at [email protected] if you are thinking of planning your own event.

Here are some quick tips on how to host your own neighborhood cleanup and keep everyone safe.
Share your results with us on social media! Tag @CleanCityDC and #TrashFreeDC on Twitter, Instagram, or Facebook.
Districtwide: Celebrate Women's History Month with the #FITDC HerStory Virtual 5K! Take a bag and glove and go plogging: herstory5k.com
Ward 1:
Ward 2:
Ward 3:
Ward 4:
Ward 5:
Ward 6:
Seward Square, 9 am, meet at 4th St & Pennsylvania Ave. SE (Naval Lodge). Info:

[email protected]

Wylie and I St NE clean up, 1pm, meet at alley between Wylie and I Streets NE. Info:

[email protected]

1400 Duncan Street NE, 10am. Info: [email protected]

1300 block E Street NE, 10am. Info: text202-386-8333

Sherwood Recreation Center, 10am, meet at 640 10th Street NE. Info:

[email protected]

H Street NE, 9am, meet on H Street from 8th to 14th Streets NE. Info: [email protected]
Capitol Hill, 1pm, meet at 204 9th Street NE. Info: [email protected]
Mount Vernon Triangle, 8am, meet at 4th & M Streets NW. Info: 202-236-3329 or

[email protected]

King Greenleaf, 8:45am, meet at M and Delaware Ave SW. Info: Prem Jogi, 202-281-8410
Ward 7:
Capitol View Neighbors/ Capitol View Civic Association, 11am, meet at 55th and Ames Streets NE. Info:

[email protected]

Pennsylvania Avenue East Main Street, 10am-1pm, meet at Triangle Park at St. Francis Xavier, 2800 Pennsylvania Ave SE. Info: [email protected]
Ward 8:
Ward 8 Water Watchers, Oxon Run, 12:30pm, meet at The Well at Oxon Run, 300 Valley Ave SE. Info:

[email protected]

or 347-743-1546

Young's Memorial Church Cleanup, 1pm, meet at 2490 Alabama Ave SE. Info:

[email protected]

Circle of Love, 9am, meet at 3500 Brothers Place SE. Info: [email protected]
Angela Gordon, 9am, meet at Ridge Place and 14th Street SE. Info: 202-446-7270
Anacostia Park, 10am, meet at Anacostia Pool. Info: [email protected]

Nicholson Street neighborhood, 8am, meet at front of Boone Elementary, 2200 Minnesota Ave SE. Info:

[email protected]

Congress Heights, noon, meet at 3600 Martin Luther King Jr. Avenue SE. Info: https://www.eventbrite.com/e/cleanward8-tickets-145126440089